Sandy Ridge Sunday Bulletin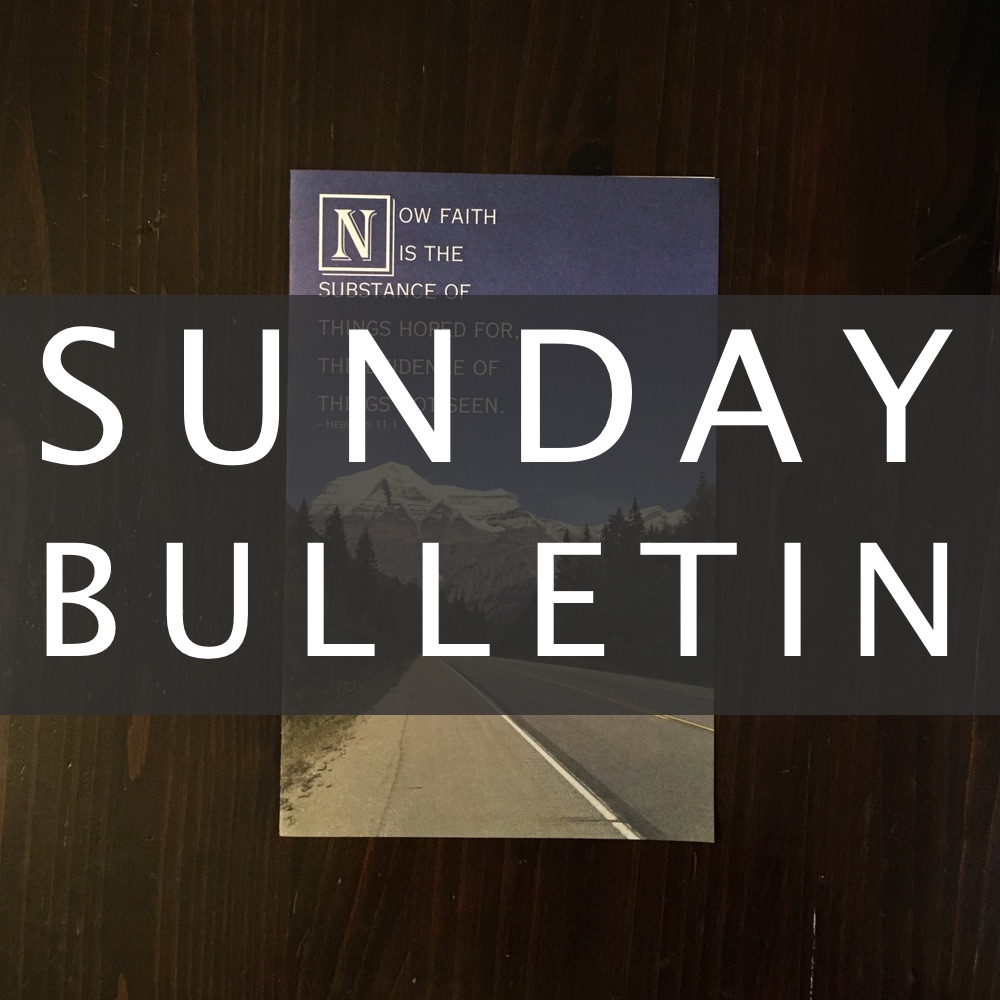 January 26th, 2020
WORSHIP SERVICE: 9:30 a.m.
Chorister: David Miller
Message Today: Lyle Bontrager
Message Next Sunday: Vancen Miller
Message in Elkhart: Lloyd Mast
Message Next Sunday in Elkhart: Kendall Burkholder
SUNDAY SCHOOL
Today's Lesson: Romans 2:17-29
Next Sunday's Lesson: Romans 3:1-18
Offering Last Sunday: 00
Attendance Last Sunday: 0
SUNDAY EVENING SERVICES: 6:30 p.m.
We have services this evening.
HAPPY BIRTHDAY
Norma Miller – Tuesday, January 28, 1941
Marilyn Peachey – Thursday, January 30, 1949
Marilyn miller – Friday, January 31, 1964
Randen Zimmerman – Friday, January 31, 2005
HAPPY ANNIVERSARY
Seth and Danae – Thursday, January 30, 2016
MEALS FOR CLUB
Elkhart – Sunday, February 2nd
Aryln and Becky – Sunday, February 9th
COOKIES FOR CLUB
Brenda M– Wednesday, January 29th
Charlotte – Wednesday, February 5th
PRAYER WALKERS
David – Wednesday, January 29th
WEDNESDAY EVENING
Good vs God
NEXT SUNDAY MORNING GREETERS
Nathan and Bryan
ANNOUNCEMENTS
YOUTH
We sing at Mason Health Care today.
REMINDERS
House Fellowships – Tuesday evening, January 28th.
Ladies Retreat – January 31- February 1st.

Men's Prayer Meeting – Saturday morning, February 1st.

UCS
United Christian School is searching for a volunteer to do some
elementary tutoring. Potential subjects would include: math,
spelling, and reading. This would not include any teaching of new
material but reviewing with the students or assisting them as they
complete their work. All materials would be provided by the staff.
Currently the tutoring is two afternoons a week but could be
flexible. There would also be an opportunity for assisting with an
elementary art class. Please contact the school if you are interested
in helping with one of these opportunities. 574-773-7505.